"But somehow my eyes fell on a book purchased by my father. It was Shravana Pitribakhti Nataka (a play about Shravana's devotion to his parents). I read it with intense interest. There came to our place about the same time itinerant showmen.
One of the pictures I was shown was of Shravana carrying, by means of slings fitted for his shoulders, his blind parents on a pilgrimage. The book and the picture left an indelible impression on my mind.
"Here is an example for you to copy", I said to myself. The agonized lament of the parents over Shravana's death is still fresh in my memory. The melting tune moved me deeply, and I played it on a concertina which my father had purchased for me."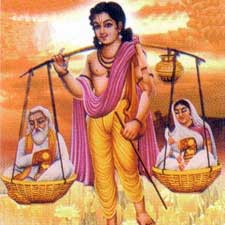 Shravana